Pas à Pattes: Our Origins
After finishing school, people over 21 who are living with a disability often find themselves with limited social and professional resources. This can lead to problems with their development and the loss of skills they had previously acquired.

Pas à Pattes et Cie was born in response to this issue, offering people on the autism spectrum and people with intellectual disabilities a stimulating and enriching professional environment.

Pas à Pattes et Cie is an inclusive collective enterprise driven by a social mission and focused on creating conditions in which everyone can develop to their full potential!
Our Founder
A journalist by training with a Master's in business administration, Marie-Paule worked in media for over a decade before shifting her career to collective enterprise management.
Marie-Paule is passionate, action-oriented, and an adoptive mother to a son with multiple disabilities (both intellectual and sensorial). She quickly became involved in volunteering with people with disabilities and their families: on the school board, with the EHDAA committee (for students with a disability or struggling with learning or adaptation), and with foundations.
Pas à Pattes et Cie firmly believes in the potential of people living with an intellectual disability or autism spectrum disorder. Together, we can provide them with an active and enriching life that benefits the community.
Mission
Our mission at Pas à Pattes et Cie is to improve the living conditions of adults living with an intellectual disability or autism spectrum disorder by encouraging their socio-professional integration through social entrepreneurship.
Vision
To be a role model and actor for change in inclusive employment.
Values
RESPECT
PERSONAL DEVELOPMENT
INTEGRITY
COLLABORATION
CREATIVITY
Activity Sector
Pas à Pattes et Cie drew inspiration for its products and services from the extraordinary connection that exists between humans and their pets.
Adults living with an intellectual disability or an autism spectrum disorder create artisanal and sustainable accessories for pets in adapted workstations. Our flagship products at Pas à Pattes et Cie are our dog bandanas and scarves.
Our Team
Qualified professionals ensure that our adapted workstation participants are trained, supervised, and supported. They include educators, special education technicians, teachers, trainers, students, interns, and/or volunteers who have been specially trained.
In partnership with the CRDITSA (Centre de réadaptation en déficience intellectuelle, trouble du spectre de l'autisme at the CISSS de Laval) and the CREP (Centre de ressources éducatives et pédagogiques).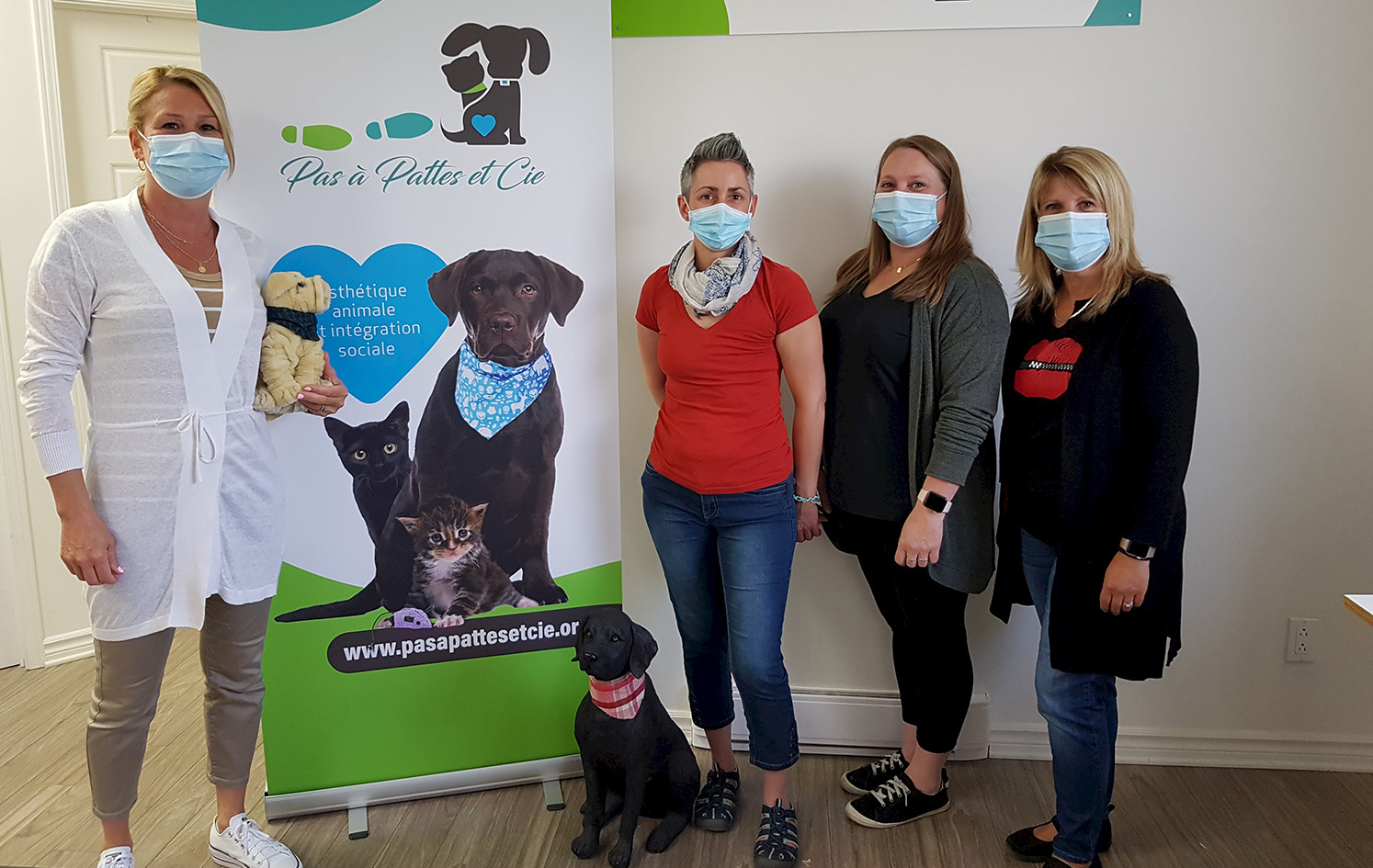 Marie-Josée Manes
Teacher
Martine Lapointe
Special educator
Isabelle Pothier
Special educator
Stéphanie Gascon
Readaptation assistant
Board of Directors
Pas à Pattes et Cie has surrounded itself with a board of directors made up of members with meaningful backgrounds and experience.
Marie-Paule Ceuppens
Présidente-fondatrice
Oumaïma Moundir
Vice-présidente
Caroline Tang
Administratrice
Audrey Tam
Administratrice
Marianne Doiron
Administratrice
Become a Partner
Join us by becoming a partner!
There are many different ways to contribute and support Pas à Pattes et Cie's mission and activities. Here are some examples:
Donating fabric or surplus textiles. Donation boxes are available at the following locations:

- 988 rue Notre-Dame-de-Fatima, Laval QC H7G 4X8
- Pénélope Machines à coudre (all 3 locations) penelope.ca
- We also collect donations within the municipality of Laval.

Organizing and/or sponsoring a fundraising activity for Pas à Pattes et Cie
Offering Pas à Pattes et Cie products to your clients by joining our distribution and sales network
Joining our Founder's Circle as a financial partner
Get in touch today to learn more, or to share your idea for a project to support our activities.
Thank you for your support!